<!-header -->
Get a Manque Education...
Susan Nethercote, designer and owner of Manque Design, is passionate about helping fellow-creatives make a business from their passion, just as she began to do fourteen years ago.
Some of you may remember Susan's rise through the Melbourne market scene, followed by the establishment of her flagship store in Northcote, national wholesale distribution, and culmination as Manque's current incarnation as an online enterprise.
Susan has an enormous scope of business experience and has 'seen it all'. She loves nothing more than sharing the wisdom and practical skills she has learned along the way.
To that end, in 2013 Susan established Creative Conversation- an education, consulting and coaching service for helping others navigate their way through the endlessly confusing and challenging world of business that can be so daunting for right-brain creatives. She works individually with clients from her studio in Ballarat, Victoria in person or via phone or skype.
Susan also regularly runs group day-long workshops educating others in her unique, intuitive approach to business which focusses on not just creating a business that you love, but a life you love.
Please go to creativeconversation.com.au to find out more.
You can also join our Creative Conversation community on Facebook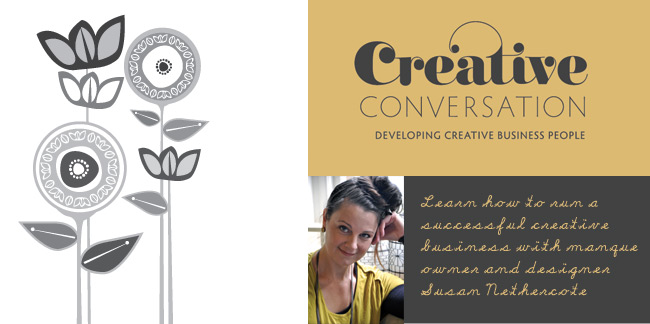 <!-content -->